Turns out that our very own Northern Lights EP Robin Hall was a punk rocker back in the day! And a very influential one at that with his proto-punk band JACK RUBY. Their raw experimental sound influenced a number of the big punk and alternative bands to come out of the 70's NYC music scene – though they never released any music commercially themselves. A recent re-discovery by Thurston Moore and others led to a release of their music and in turn led to their songs being used in HBO's new show VINYL, which premiered Sunday Feb 14th. Interesting story below from Pitchfork about how it all transpired.
How "Vinyl" and Lee Ranaldo Turned a Lost '70s Act Into TV's Next Great Fictional Band
by Marc Masters
In the premiere episode of "Vinyl," the new HBO series created by Martin Scorsese and Mick Jagger, record label owner Richie Fenestra (played by Bobby Cannavale) sits on his couch, wired on coke and cigarettes, shaking his head to a song blasting from his stereo. The tune is "Bored Stiff" by a band called the Nasty Bits, whom Fenestra decides his company, American Century Records, absolutely must sign.
The Nasty Bits didn't actually exist in the 1970s New York music scene that "Vinyl" depicts, but "Bored Stiff" did. It was originally written by one of those great bands that almost got lost to history, the proto-punk outfit Jack Ruby. The quartet existed sporadically for only a few years in the mid-'70s and never released any music commercially. But in 2011, Weasel Walter's ugEXPLODE label released a CD of their 1974 demos; three years later, the small labels Saint Cecilia and Feeding Tube followed suit, releasing the same material from higher-quality tapes, along with more recently-discovered music.
Those releases caught the ear of "Vinyl" music supervisor Randall Poster, who heard the show's fictional band in them. "There's a punk rock foundation embedded in Jack Ruby's music, before punk existed," says Poster, whose lengthy resume includes The Royal Tenenbaums, Boyhood, and Carol. "Their music is stripped of all classic rock artifice, and it puts forward the root of something that would evolve from there. It works for Kip Stevens [the singer of Nasty Bits], who is having a moment of crisis trying to connect to what brought him to rock and roll in the first place."
Jack Ruby's music is indeed a fascinating hybrid of underground sounds, made at a time when mainstream rock was becoming a cartoon and punk was just around the corner. Their songs were clearly influenced by the Velvet Underground and the Stooges, with singer Robin Hall's snarl echoing Iggy Pop, as well as Richard Hell. But their tunes also include layers of noise generated by atonal guitars and electronics. Hall recalls bandmate Randy Cohen, who went on to write for "Late Night With David Letterman" and the New York Times, filtering stock sound effects through his Serge synthesizer, which was "the size of a coffin." The results foreshadow the unruly strain of post-punk known as No Wave. (One incarnation of Jack Ruby even included bassist George Scott, who later played in No Wave mainstays Contortions and 8-Eyed Spy.)
According to Hall, being both catchy and chaotic wasn't seen as a paradox in the downtown New York scene in 1973. "Everybody was doing something different, and it was very generous in the boundaries," he recalls. "There was nothing that wasn't allowed." So as much as the Nasty Bits scoff at their label's attempts to smooth their sound in "Vinyl," Jack Ruby could dream of success while also refusing to bend. "We wanted to be popular, not underground," Hall says. "But we were also committed to noise, and there was no thought of compromising. We assumed no one was going to get us, even as at the same time as we thought we would have hit singles."
Judging by the music that survived, Jack Ruby's Top 40 fantasies were not such a stretch. All four tunes that show up over the course of the show's initial 10-episode run—"Bored Stiff," "Hit and Run," and "Bad Teeth," plus Jack Ruby's take on the Four Seasons' "Beggar's Parade"—are swinging and infectious, like punk before punk existed. It's easy to hear why these songs could have impressed a label seeking fresh sounds; even 40 years later, Jack Ruby have a bracing immediacy.
To replicate that immediacy, Poster turned to one of his rock'n'roll heroes: Sonic Youth's Lee Ranaldo. He tasked Ranaldo with recording the songs of Jack Ruby and other bands depicted in "Vinyl" for its soundtrack, and in turn, Ranaldo called on an array of current musicians to help. "Randy likes the idea of bringing a lot of people into the game," says Ranaldo, who previously worked with Poster on Todd Haynes' Bob Dylan bio-fantasy I'm Not Here. "All the different people we've had—tons of musicians coming in and out—have made it exciting."
Ranaldo, whose ex-bandmate has also notably praised Jack Ruby, put together a band with bassist James McNew (of Yo La Tengo), drummer Steve Shelley (also of Sonic Youth), and guitarists Alan Licht and Don Fleming. When you watch the Nasty Bits raging away in a scene, you're actually hearing Ranaldo's band backing up singer James Jagger (yes, Mick's son), who portrays Bits frontman Kip Stevens. Of course, Ranaldo and company are out of the age range of the show's fictional group of disheveled twenty-somethings, so Poster and his colleague Meghan Currier hired some actual musicians to play Jagger's backing band: Brooklyn's Beach Fossils.
"We're basically accessories to the [Kip Stevens] story," says Beach Fossils founder Dustin Payseur. "He's the singer in this proto-punk band, and we're his weirdo, fucked-up bandmates." None of the members of Beach Fossils had ever acted before, but at the beginning their tasks were pretty simple. "For the most part, [the directors] just said, 'Play like you're losing your mind,'" says Payseur. "And I said, 'I know how to do that.'" "One of the assistant directors told me, 'I don't even care if you're playing the part—just run around stage, fall down and act insane," adds guitarist Tommy Davidson.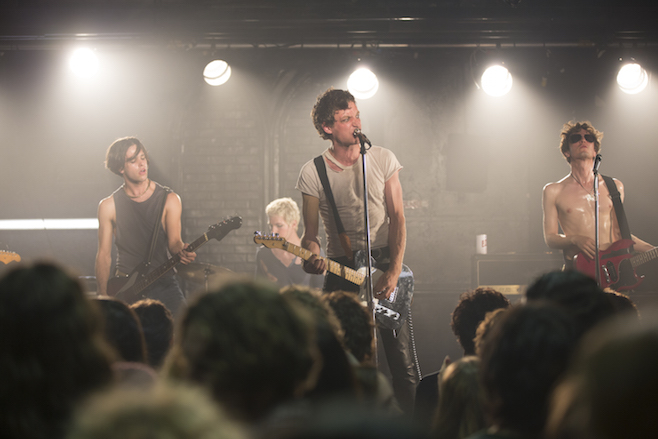 James Jagger as Kip Stevens in "Vinyl". (Niko Tavernise/HBO)
As episodes progressed, Beach Fossils were given lines to perform, which all members say went surprisingly smoothly. But they really got into the whole experience when they were simply pretending to perform in front of crowds decked out in '70s garb. "The scenes where we're playing onstage with the crowd reacting to us—it's easy to feed off that energy, because it feels real when you have a hundred people screaming at you," says Payseur. "It makes you feel like you're totally immersed in [that time] when you're shooting [one scene] for 12 hours," adds guitarist Jack Doyle Smith.
In other "Vinyl" scenes, real bands from the time period are played by actors, with Ranaldo's supergroup of sorts also providing the music. For one flashback scene—set in 1968 at legendary St. Mark's nightclub the Dom—Julian Casablancas joined Ranaldo's group to sing the Velvet Underground's "Venus in Furs" and "Run Run Run." For another, they reworked Alice Cooper's "I Love the Dead" with Andrew W.K. on vocals.
Scenes featuring more obscure artists required mixing and matching. "We needed to record something for a scene with Joey Ramone's first band, Sniper," recalls Ranaldo. "But there's not one bit of music you can hear by them—there's not even one picture of the band you can find." So Ranaldo chose songs from a similar group of the same era, the Magic Tramps (led by Eric Emerson, best known for his acting in Andy Warhol's films). He recorded those tunes with Yo La Tengo, alongside Jesse Malin singing as Joey Ramone.
Ranaldo's stable of collaborators widened even further when creating music for the end credits of individual episodes. Guests included Iggy Pop, X's John Doe, the Kills' Alison Mosshart, and Charli XCX, who Ranaldo says "did a Stooges song and totally fucking killed it." "That's the fun part," says Poster of all this partnering. "There are a lot of people involved who we've all worked with before and know. Somebody like Ira Kaplan, he's an incredible musical resource. I've always cited Yo La Tengo's [partial covers album] Fakebook as a great inspiration for me in finding material."
Ranaldo and Fleming also served as on-set consultants, making sure the concert scenes looked and felt accurate. "It was pretty amazing to watch," says Ranaldo. "They would do a club show with 150 extras wearing what people coveted from vintage stores 25 years ago. The Velvet Underground scene was supposed to be the Warhol crowd, so there were people in bouffant hairdos and gold lamé mini-dresses."
But Ranaldo seems particularly thrilled to have helped rekindle the music of Jack Ruby. "I think they were straddling this period musically," he says. "All of their recorded stuff was super raw, and you can feel this nascent energy rising up, which makes it valuable as a historical document. Jack Ruby led to some great stuff that happened even if they didn't get there themselves."
This recent interest in Jack Ruby, after decades in obscurity, must feel redemptive to the band's only surviving members, Robin Hall and Randy Cohen. For his part, Hall admits that "Vinyl" has provided a thrill that his teenage self couldn't have imagined. "I was a 15-year-old kid in New Hampshire when some girl said to me, 'You look like Mick Jagger,' and that made me want to be a rock'n'roll star," he says with a chuckle. "It's amazing that 40 years later, Mick Jagger's son is singing my band's songs."
http://schafferrogers.com/wp-content/uploads/2016/02/Screen-Shot-2016-02-15-at-4.38.05-PM.png
252
484
Corey
http://dev.goodtreecompany.com/sites/sr4/wp-content/uploads/2015/11/sr4-logo-3.png
Corey
2016-02-15 16:55:59
2016-02-16 13:47:29
Our own punk rocker Robin Hall inspires Jagger + Scorsese for VINYL on HBO